On Site Collections
Douglas Waste appreciate that a vital part of recycling is how material is stored and collected from your premises. In addition to the more traditional wheeled bins we also offer cages for you to use as on site storage.
The cages occupy a small footprint – only 40% of a wheeled bin of the same capacity

Cages will fit through any doorway – making it easy to manoeuvre around your shop or factory

Cages can be taken to where you are producing the waste packaging – instead of carrying the packaging outside to a bin.

Cages can be collected is relatively low powered and economical vehicles – less impact on the environment!

In addition to cages we can drop off our large polythene bags for smaller quantities of polythene, paper, cans, polystyrene etc.

Bags are transparent so it's easy to put the correct material in

Bags take up minimal storage when empty

Can be stored outside when full and tied

Can be taken to where the waste packaging is – saving you numerous trips outside to the bin.

When the bags can no longer be used we recycle them!
For larger volumes of bagged material we can also provide the polypropylene 'builders' bags

These bags hold the equivalent of a 1100 litre wheeled bin and are ideal for large amounts of polythene film, polystyrene etc.

When we collect a full bag we will drop you off an empty – we keep re using the bags until they are worn out – then we send them off for recycling!

We can usually get your cage, bin or bags to you within 24 hrs please call us on 01482 222545 to organise your collections.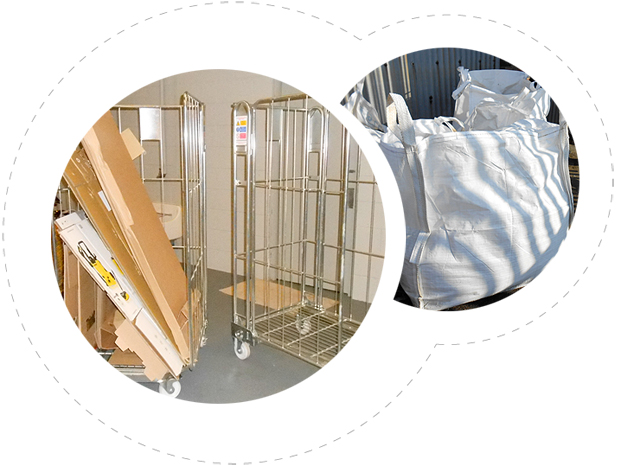 When service matters
Since its founding, Douglas Waste Management has earned its reputation
as a customer focused service provider. We hold the Customers' needs as
our top priority and take great pride in delivering Customer based solutions.